Want more articles like this one? Like!
Dec 17, 05:14 pm

ALMAY TLC in Sand 260

Overall Rating: A-
Golden Undertones: B+
Coverage Quality: A

Like Revlon Colorstay, this foundation provides medium to full matte coverage but manages to steer clear from any of the usual cakey-ness, leaving a very natural flawless finish. TLC supports yellow undertones well, especially for a foundation that has this kind of weather resilience. Recommended for those who need a lasting foundation that won't quit.



L'OREAL TRUE MATCH in Nude Beige

Overall Rating: B+
Golden Undertones: A-
Coverage Quality: B

While Trumatch provides good golden-undertone support and medium coverage, its oil-free formula may be frustrating for those with combination or dry skin. Pores and fine-lines might be more apparent using this foundation without a heavier moisturizer. We still appreciated its matte finish and lasting coverage. Recommended for those with oilier, more supple skin or those who like to use heavier day creams. We don't recommend this foundation for those with fine lines, rough patches, or flaky skin.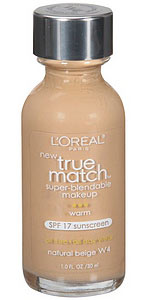 RIMMEL MATCH PERFECTION in Warm Ivory 230

Overall Rating: B+
Golden Undertones: B+
Coverage Quality: B+

Rimmel's Match Perfection performed fairly well with golden undertones. It provides a natural finish with nice blendability for a medium satin coverage. Recommended for those with dry skin or those who prefer dewey finishes. Not recommended for those with sensitive or oily skin types.



NEUTROGENA HEALTHY SKIN in Natural Beige

Overall Rating: B+
Golden Undertones: B+
Coverage Quality: B

We appreciate Neutrogena's "healthy" alternative to the drugstore foundation which bumps its overall rating to a B+. Golden undertones were fairly well supported despite its heavy matte coverage. Be careful in using too much so as to avoid a fake or cakey finish. Only recommended for neutral to weak golden undertones, who want a thick, flawless finish.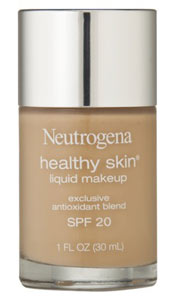 COVERGIRL TRUBLEND in Warm Beige/Buff Beige

Overall Rating: C+
Golden Undertones: C
Coverage Quality: B

Covergirl's TRUblend is not recommended for Asian skin tones. We tried two different colors and undertones were very pink leaving a "pasty" look.


*Ultimately, you have to make the right decision based on your individual skin tone and needs.
ASIAMS.NET | CONTACT US

© 1999-2012 AsiaMs.Net
No part of the contents of this site may be reproduced without prior written permission.