T R U E

colors
All about Hair Coloring.

Hair coloring is a powerful tool that helps express your desired personality.

From anime inspired reds and blues to subtle highlighted chestnuts, the hair color and texture speak volumes about you.

Hair coloring is a technology with its own vocabulary, like glazing, foiling with tints, and threading. But understanding the fundamental mechanism helps achieve what may be the best for your hair.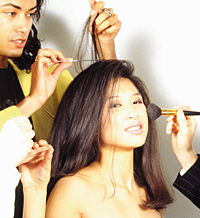 Selecting a hair coloring product depends on the color you want, and how long you want that color to last.

Even Asian women's black hair contains no more than 1% of basic black melanin, and it is this colored pigments of melanin produced at the hair root, that determines the final color.

Coloring hair has been practiced since the ancient times, but it wasn't until 1909 when Eugene Schuller, a French chemist, invented a commercial hair coloring that later became a base for L'Oreal line, that the science of hair coloring seriously began its evolution. Today, 75% of American women dye their hair.

There are two main ingredients in hair coloring. Hydrogen peroxide, better known as an element in the developer, causes sulfur loss in the hair, that causes hair to become dull-looking. The other is ammonia, that acts as a lightener, and allows new color to penetrate the cortex of the hair.

There are roughly three types of hair coloring:

1. Semi-permanent color: This lasts up to 6 to 12 washings, and covers up to 50% of grays. This won't lighten hair, because it contains neither ammonia nor peroxide. But this can become permanent on already permed or colored hair.

2. Demi-permanent color: This lasts about 24 to 26 washings. These do not contain ammonia, so the natural pigments are not lightened. This can also become permanent on permed or pre-colored hair.

3. Permanent color: Ammonia and peroxide are both used, and can change dark hair to light hair. The only reversal from this process is letting your hair grow out the new color. A resulting color is a combination of your natural hair color and the bottled shade. This is the only method to permanently cover gray, or go from dark to blonde. Regular touch-ups of 4 to 6 weeks are needed to control the darker roots.



TIPS



Always start with a minimal commitment.



HOW TO MAKE IT LAST



1. Rinse in cool water. The more you wash your hair, the more moisture, thereby color, gets stripped from the cuticle. But rinsing in cool water helps to tighten the cuticle, and allows for longer lasting color.
2. Use a shampoo designed for color-treated hair that helps preserve color longer.
3. Blot your hair dry. Do not wrap it or rough-dry it with a towel.
4. Use a wide-toothed comb to brush wet hair.
5. Avoid over-drying. Blow dry only until hair is almost dry.








HOW TO KEEP HAIR SOFT



1. Pre-color protection treatment will add shine and leave hair feeling soft.
2. Wash hair in cool water. Cool water helps keep the color and allows for greater shine.
3. Use a shampoo that contains a semi-permanent color weekly. It will minimize color loss.
4. Minimize using heat appliances as much as possible. Heat can burn and damage the outer layer of the cuticle, stripping of the color.
5. Non-ammonia color glaze application will add body and shine.



DARK TO BLONDE:



Bleach is used to strip the color from hair, before the ammonia-peroxide solution transform hair into a new color throughout the hair shaft. Unless you are willing live with a blonde for a long time, it may be desirable to use semi-permanent process instead.



GOING RED



Red fades the most in sunlight. Try to avoid going red in the summer.



THINKING BLACK?



Black won't wash out completely for about a year, so think twice before going goth-black. Try on black wigs, and ask yourself if you are willing to make that 1-year commitment. It will need to be retouched every 6 to 8 weeks.



ASIAMS.NET | CONTACT US

© 1999-2009 AsiaMs.Net
No part of the contents of this site may be reproduced without prior written permission.