Healthy Vegetarian Eggroll
Want more articles like this one? Like!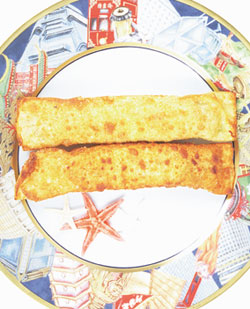 Nov 16, 08:49 pm
Limit the stuffings to your favorite vegetables with pleasing textures and tastes and deep fry the rolls in a small amount of oil quickly.
Recipe: Serves 20
Ingredients:
1 pkg, eggroll skin

1/8 head, cabbage or napa cabbage

1 green onion, chopped

1/2 med zucchini

1/8 lb, bean sprouts

1 Tsp, cooking oil

Dash, sesame seeds

Dash, salt

Dash, pepper
1. Heat one Tbsp of oil in a shallow pan to medium high heat. Add the chopped vegetables and stir until desired consistency. Less frying, crunchier the texture, lower the calories, and higher the vitamin retention.
2. Stuff the vegetable mix into an egg roll skin, set aside. Repeat until desired number of eggrolls are stuffed.
3. Put oil in a shallow pan for frying. When heated enough for edge of an eggroll to sizzle, place the egg roll in the heated oil and quickly cook each side. When the skin is lightly brown with bubbles, roll over, and cook the other side.
4. Serve with rice and soy sauce. Refrigerate the leftover eggroll skin for later use.
ASIAMS.NET | CONTACT US

© 1999-2012 AsiaMs.Net
No part of the contents of this site may be reproduced without prior written permission.