Gourmet Sashimi Salad
Want more articles like this one? Like!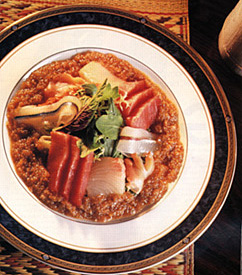 Nov 16, 08:34 pm
Nobu Matsuhisa was born on March 10, 1949 in Tokyo, the second of four children. His architect father died when Nobu was eight, and he grew up daydreaming over his father's old photos of faraway places. When he was 15, a brother took him to a sushi restaurant. Nobu was captivated by the artistry of sushi-making, and masculine attitudes of the chefs. He wanted to become a sushi chef, leaving his brothers to follow in their father's footsteps. At 18, Nobu began apprenticing at a Shinjuku restaurant.
It was his sheer determination to suceed and $70,000 borrowed seed money that got him where he is today.
Recipe: Serves 4
Ingredients:
Salad

10 oz tuna or kanpachi

Mixed baby green
Dressing
1 oz soy sauce

1 oz vegetable oil

1 oz sesame oil

1 oz rice vinegar

3/4 oz water

1/4 tea sp black pepper

1/4 tea sp sugar

1/4 tea sp mustard
1. Sprinkle pepper and salt to tuna or kanpachi. Grill 10 seconds per side. Place in ice water to cool so they will stay rare inside. For dressing, mix all ingredients well.
2. To serve, slice tuna or kanpachi about 1/4 inch thick and place neatly on baby greens and pour on dressing.
ASIAMS.NET | CONTACT US

© 1999-2012 AsiaMs.Net
No part of the contents of this site may be reproduced without prior written permission.