Asian Salad with Rice
Want more articles like this one? Like!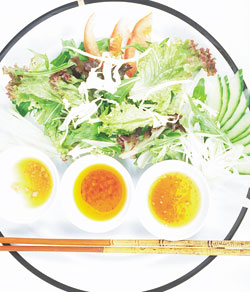 Nov 16, 08:55 pm
Salad is always a welcome summer respite. Bring in the tastebud delights from various Asian dressings.
Recipe: Serves 2
Ingredients
1/4 lb baby greens

3 Tbsp, sesame oil

1 tsp, miso paste

1 tsp, gochujang paste

3 tsp, vinegar

3 tsp, water

1 tsp soy sauce

Dash, red chili pepper

1 tsp, sugar

Garlic to taste

Dash, sesame seeds
1. Prepare the Asian dressing base.
2. In one shallow bowl mix sesame oil, water, vinegar, garlic and sugar. This is the base for all the dressings.
3. For each Asian flavoring, mix in a desired amount of miso, gochujang or chili pepper. Serve cold.
ASIAMS.NET | CONTACT US

© 1999-2012 AsiaMs.Net
No part of the contents of this site may be reproduced without prior written permission.