BRTC Gold Caviar BB Cream
Want more articles like this one? Like!
May 4, 12:37 pm
Back to Article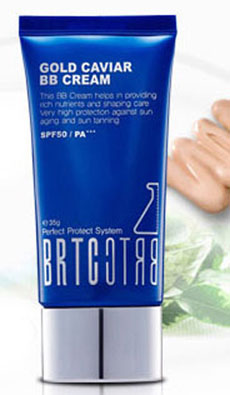 Allantoin (Powerful Healer, Exfoliating, Moisturizer)
This is a chemical compound found in the comfrey plant that has been shown to possess skin healing and sloughing properties. While it helps the skin to shed its outer epidermal layers it promotes healthy tissue formation and allows for the skin to readily absorb more moisture. It is used to treat wounds, burns, skin ulcers, eczema and any other skin abrasions.
Arbutin (Powerful Skin-Lightener)
Extremely popular in Asia, this ingredient is a natural and effective skin lightener. It essentially blocks the skin's production of melanin.
Arbutin may not be used in as many US-made products as there are still questions regarding the safety of the ingredient. It is important to note that Arbutin is form of Hydroquinone—a skin-bleaching ingredient that has shown cancer-causing effects and has been banned in some countries. Arbutin, however, has been shown to be much less irritating than hydroquinone and has not yet demonstrated the same degree of harmful effects on the skin.
Caviar Extract (Enricher)
We all know caviar as a luxury food served at fancy meals, but what exactly is the hype about it as an ingredient in skin creams? There is no doubt that caviar is chock full of healthy nutrients: Omega-3's and -6's, proteins, potassium, selenium, magnesium, phosphorus, iron, vitamins A and E and other micorelements. We know the consumption of sea vegetables is highly beneficial for your skin, hair and nails. Whether or not caviar will yield miracle results applied topically is still unknown but it certainly can't hurt.
Resveratrol (Wrinkle-Reducer, Anti-Aging, Powerful Protector)
Resveratrol is an antimicrobial substance produced by plants in response to stress, infection or strong UV radiation. Its anti-oxidant properties exceed that of vitamins E and C, and topical application of this anti-oxidant has shown to protect against UVB skin damage and inhibit UVB oxidative stress.
In 2008 a study was performed comparing the antioxidant strength of 1% resveratrol with 1% idebenone (a powerful pharmaceutical antioxidant). Idebenone's benefits include protecting against environmental damage, improving the appearance of fine lines and wrinkles, reducing dryness and smoothing skin texture. The results of the study revealed that resveratrol had 17 times more antioxidant capacity than idebenone.
Sodium Hyaluronate (Powerful Moisturizer, Temporary Wrinkle-Reducer)
Not to be confused with Hyaluronic acid (which is not absorbed by your skin topically), this common skin care ingredient is popular for its moisturizing abilities by hydrating the skin and also reducing water loss. It can hold more than 4000 times its weight in water. This usually results in a temporary plumping of the skin that can help to minimize the appearance of fine lines. Some skin care products may boast its ability to boost collagen production, but this is not backed by research.
Tocopheryl Acetate (Protector)
A naturally occurring form of Vitamin E that provides powerful protection against the sun's oxidative damaging effects.
Tocopheryl acetate is considered a moderate hazard by the Cosmetics database. It should be noted that CIR has found strong evidence that it is a human skin toxicant and in vitro tests on mammalian cells showed positive mutation results linking it to cancer.
Vitis Vinifera (Protector, Exfoliating, Moisturizer)
Commonly known as grape seed extract, Vitis Vinifera is a powerful anti-oxidant. Its many properties include healing, anti-inflammatory, anti-funfal, anti-microbial, and UV protecting. It also contains Malic Acid, an alpha hydroxy acid which exfoliates the top layers of skin and helps to retain moisture.
Back to Article
ASIAMS.NET | CONTACT US

© 1999-2012 AsiaMs.Net
No part of the contents of this site may be reproduced without prior written permission.