Denim Guide: Find Your Perfect Fit
Want more articles like this one? Like!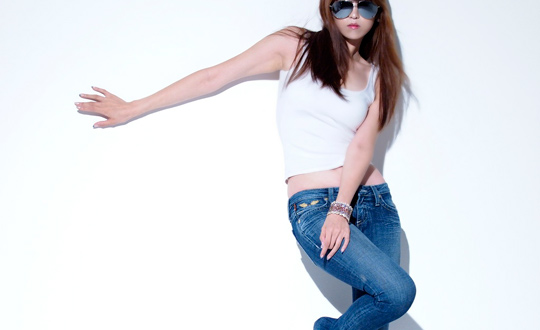 Apr 10, 10:44 am
It's time to peel off those yoga pants because jeans are hotter than ever this spring! For those who otherwise live in sweats, finding the right pair of jeans can be stressful, discouraging—and if you've spooned through one too many cartons of ice cream —painful, even. Why doesn't that hot pair on Victoria Beckham translate in the fitting room? Finding your perfect jeans is about getting to know your body's curves and knowing how to play them up and down. Here are some tips that will save you some time and money on denim-roulette:
Shopping Tips:
1. If your jeans slip on easily, go down a size. Yes, it's ok if you have to squeeze into them!
2. If you can fit your whole hand in your waistband, it's too big. Try one size smaller.
3. The crotch should be nice and snug. There shouldn't be any material to grab when you first try them on, as they will only loosen with wear and create an unflattering pucker.
4. Look at the material composition. You need no more than 3% spandex, or your jeans may lose their shape with wear.
5. Don't be afraid to have your jeans hemmed. Most designer brands leave extra material on the inseam to accommodate different leg lengths. \When you take them in, make sure to bring the shoes you would normally wear with that pair, and have your tailor measure the hem to the back of the heel.
Below are general guidelines for body types. Not all of us will fall into one category (some may be curvy and petite). These are tips to keep in mind as you browse different styles:
Petite
The slight curves of petite gals work especially well with skinnies and crops (the most popular styles of the season). Here are a few extra tips to keep in mind:
Be careful with flares and large bootcuts, as too much fabric on the bottom can overwhelm your small frame.
For bootcut jeans, opt for baby bootcut or slim bootcut styles.
Higher waists (7.5'' and over) will lengthen your legs and make you appear taller.
Have your jeans hemmed. It will give you more brand options.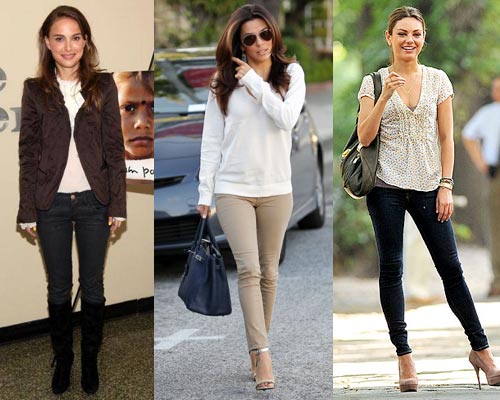 Pictured Above: Natalie Portman addds length to her legs by pairing tall boots with dark-washed jeans. Eva Longoria (petite and hourglass) looks great in her beige crop and silver heels. Mila Kunis adds height to her skinnies with tall stilettos.
Boyshape
Boyshapes are blessed in the jeans department. Slighter hips, a trim waist and a smaller bottom make these body types easy to dress in denim. Since your figure works well with most cuts (skinnies, chino, boyfriend, flare, etc), flatter your physique with low-rises and strategically designed pockets. Here is how to show it off:
Opt for low-rise or mid-rise jeans to add a feminine curve to your hips.
Give your backside more shape by choosing jeans with back flap pockets or other interesting pocket designs.
Since you got it flaunt it! Experiment with different washes, zippers and pockets.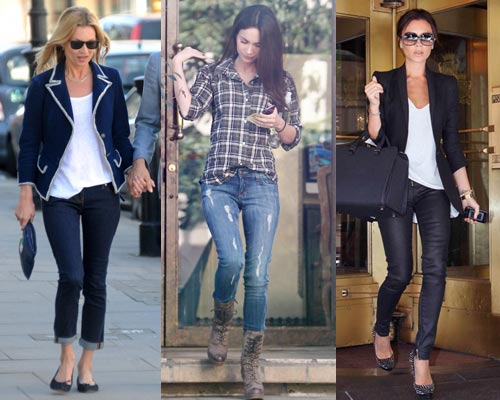 Pictured Above: Kate Moss pairs her rolled bootcuts with matching flats for a cute, feminine style. Megan Fox goes tomboy with distressed denim, laced boots and a fitted plaid button-down. Victoria Beckham goes streamlined in her waxed jeans and slim blazer.
ASIAMS.NET | CONTACT US

© 1999-2012 AsiaMs.Net
No part of the contents of this site may be reproduced without prior written permission.