For Curvy Types
Want more articles like this one? Like!
Apr 10, 11:43 am
Strawberry or Apple
The strawberry and apple shapes apply to girls who are bigger up top in relation to their bottom. Do you have thin legs with broad shoulders or are a little heavier in the middle? Accentuating your legs and butt, while pulling attention away from the top is how you will establish a more balanced, elegant look. Typically, strawberry shapes look best in stretchy mid to low-rise jeans with a straight leg. Here are some tips to keep in mind:
Opt for a lower rise jean as to not cut off your middle.
If you choose a higher-rise jean, make sure it is made with sturdy (but not too thick) material that will give your middle a good tuck without stretching out throughout the day or adding bulk.
Jeans with back flap pockets will add a nice curve to your butt and help balance out your top and bottom.
Try: Tuck a loose blouse or button down into your jeans, and top off the look with a structured blazer and kitten heels.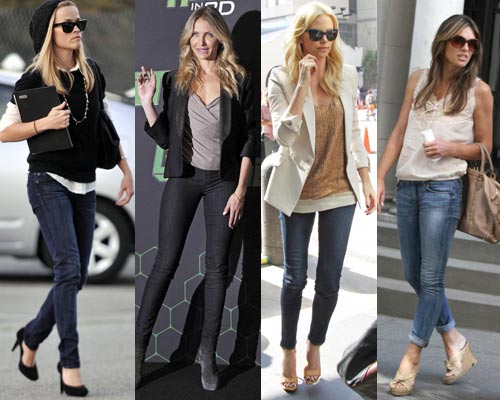 Pictured Above: Reese Witherspoon draws attention away from her middle by topping off bootcuts with a loose knit top. Cameron Diaz shows off her legs in tight skinnies and matching dark boots. Charlize Theron calls attention to her gams by paring stretchy denim with a long tank and blazer. Eizabeth Hurley looks casual chic in rolled baby bootcuts and a loose tank.
Pear or Hourglass
The pear and hourglass shapes refer to smaller-waist gals with proportionately wider hips and shoulders or chests. While these body types are tricky to dress in jeans, there are a few key things to remember in finding your most flattering fit:
Choose high-waisted or mid-rise jeans over low-rise. The high waistband will draw attention upwards to your small waist and lengthen your bottom.
Darker washes will shave inches off your thighs.
Stay away from fading on the upper thighs. Jeans with fading below the knee, however, will help balance your figure.
Jeans that have stretch (1-3% elastane) and structure will support your curves in the right places without stretching out during the day.
Be pocket picky: Steer clear of bulky side-pockets and small back pockets which can make you look wide and bottom-heavy.
Your most flattering cuts are cropped jeans, bootcuts, baby bootcuts, small flares and straight legs.
Try: Dark high-waisted bootcut paired with a tank, long blazer, and heels. Wear skinnies with chunkier heels to offset your thighs.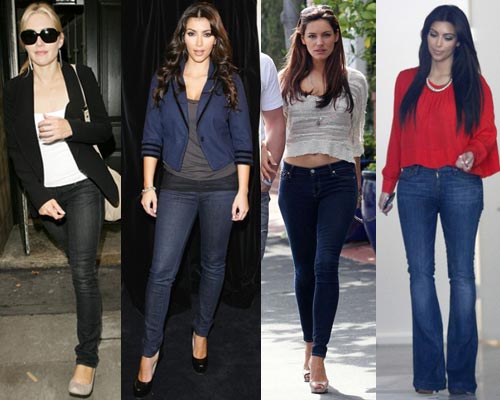 Pictured Above: Kate Winslet's dark denim takes away inches and adds instant sophistication. Kim Kardashian balances her lower curves with a structured blazer. Kelly Brook shows off her small waist in a stretchy mid-rise and a cropped top. Kim Kardashian's high-waist flare with heels elongates her bottom and trims down her thighs.
ASIAMS.NET | CONTACT US

© 1999-2012 AsiaMs.Net
No part of the contents of this site may be reproduced without prior written permission.