False-Proof Falsies
Want more articles like this one? Like!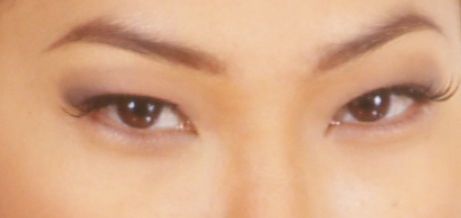 Nov 16, 12:24 pm
Special occasions call for special lashes. That is, if you know how to apply them.
1. Tips on buying: Find a length and style that you can live with. Width can be cut short with scissors to fit your eyes. Varies length individual lashes are great because they look more natural and you can use them to accent only outer corners of your eyes. Individual lashes are also easier to apply.
2. First, cut the lashes to fit your eye length, cutting it slightly longer than your eyes. Then trim shorter on the inside of the eye as well as the outside for a more natural look.
3. Apply thin dark liquid eyeliner just above the natural lashes to avoid an obvious gap between natural and artificial lashes.
4. Apply thin line of clear adhesive onto the falsies.
5. Gently press falsies on just above your upper lash line. Keep eyes closed until glue dries.
6. Apply mascara on both lashes to blend the real ones with falsies.
7. If you are feeling daring, apply another thin line of liquid eyeliner above the falsies for added drama.
ASIAMS.NET | CONTACT US

© 1999-2012 AsiaMs.Net
No part of the contents of this site may be reproduced without prior written permission.