Fall Into These Trends
Want more articles like this one? Like!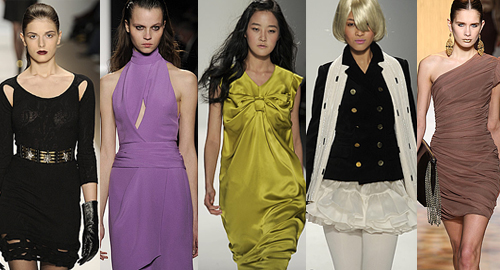 Jun 19, 11:14 am
1. Colors – The recession has us appreciating the beauty of the less-is-more mantra. That goes for the fall color palette featuring pastel pinks, purples and chartreuse. Subtle hues last longer and age slower than their bolder counterparts from a more flush time.
2. Fashion – You don't have to be patrolling the deadly streets of Iraq or the rugged mountains of Afghanistan to salute the fall's structured, armored look. Awaken your inner warrior with those wide, padded shoulders and weatherproof outerwear.
3. Black – The Twilight phenomena has bled, so to speak, into the fashion world, inspiring pairings of coffin-black with berry-dark lips. But the gothic chic is flirting on the runways with the hard-rocking femininity of ruffles, lace and flowy skirts.
4. Asymmetry – In the face of reeling corporate giants and an African American president, the trusted old symmetries are giving way to bold asymmetry. Look for lots of one-shouldered dresses and bias cuts this fall.
5. Feathers – Flights of fancy provide welcome respite from a plummeting economy. Feel lighter than air in feather-trimmed skirts, hats and dresses.
Three words for the fall: layer, layer, layer. In the age of twitter, where keystrokes can start revolutions in Iran, experimentation is the shift key. Stay out front by boldly mixing cuts, colors and textures.
ASIAMS.NET | CONTACT US

© 1999-2012 AsiaMs.Net
No part of the contents of this site may be reproduced without prior written permission.